What bothers me about anatomy & physiology lectures is that there's so much information being presented that it's impossible to grasp everything in the first go-around. Fortunately technology has given us access to a lot of remarkable resources that can help us make sense of it all.
One of my favorite and most-used iPad apps is Anatomy & Physiology REVEALED. I used it almost daily last semester during A&P 2, which was primarily physiologic processes and mechanisms that needed to be explained visually.
There are two versions: a full version for $49.99 and single-module versions for $12.99 each.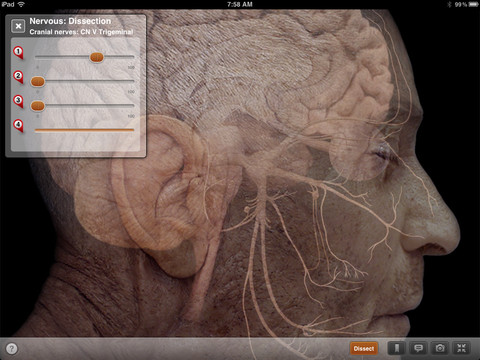 The full version contains access to all of the modules:
Skeletal and muscular systems
Nervous system
Cardiovascular, lymphatic, and respiratory systems
Integumentary, digestive, urinary, reproductive, and endocrine systems
Body orientation, tissues, and cells and chemistry
Some of the key features include high-quality human cadaver images blended together with a layering technique that lets you peel away layers of the human body to reveal more than 5,000 structures. In addition, you'll be able to explore interactive histology slides to learn microscopy anatomy of tissues. This past semester has given me a new appreciation for histology, so I recommend exploring this part of the app even if you're not required to use slides.
For radiography students, the app includes labeled x-ray, MRI, and CT images to help you visualize and learn internal structures from an imaging perspective. I admittedly haven't spent a lot of time looking at these yet, so if they don't blow you away, I'm sorry.
The most useful part of this app (at least for me) is its library of videos and animations. I can read about a process over and over, but I need to see the mechanism for it to actually stick. The videos were especially valuable during the cardiovascular and respiratory chapters. Pressure gradients make my brain turn to mush.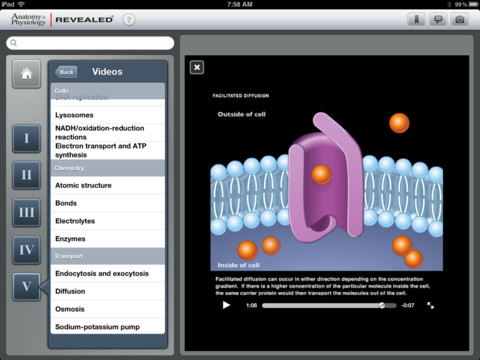 Some smaller, yet convenient features include quizzes that test your ability to identify anatomical structures and audio pronunciations.
As I said, the full version of the app is $49.99 but it's well worth the money and it'll help you all throughout your A&P classes — probably even beyond. There's also an online version that students can purchase access to. I haven't done this so I can't tell you much about it. You can learn more about it here.
P.S. There's also a version for Android.