I spend a lot of time reading a variety of books, but some of my all-time favorites are those dealing with anatomy, cadavers, pathology, and medical history. I've divided some of my favorites into different sections — anatomy, pathology/forensics, general medical, and mortuary — and I plan to highlight the best of the best (in my opinion) here. Today, I'm starting with anatomy.
It's really difficult to pick favorites, so I chose four books that I've read more than once. In fact, I even own multiple copies of some of them. Here's a bit about each one. If you decide to buy or borrow, I hope you enjoy them as much as I did!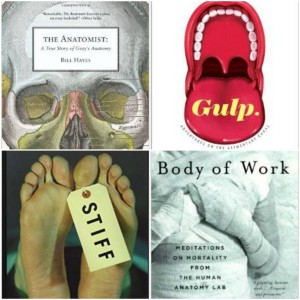 The author, Bill Hayes, tells the story of the two men who created the most famous medical text of all time — Gray's Anatomy. Part biography, part guided tour of the human body, The Anatomist explores the lives of these two men while balancing chapters with the author's own experience inside an anatomy classroom dissecting cadavers. And if you don't already own a copy of Gray's Anatomy, you'll probably place an order on Amazon after reading this.
Mary Roach is one of the funniest science writers today, and one of my all-time favorite authors. In Gulp, Roach explores the bizarrely fascinating digestive system, answering questions like: Why is crunchy food so appealing? Why doesn't the stomach digest itself? How much can you eat before your stomach bursts? And so on.
As you'd expect with Roach, this isn't a methodical top-to-bottom tour. It's more delightful and memorable than that. She's a gorgeous writer, a master of sly asides, puns, and the bizarre but ultimately relevant story, sounding at times like an absurdly well-informed comedian (her footnotes are must-reads). – Mari Malcolm, Amazon reviewer
See? I told you I love Mary Roach. Stiff was the very first book I read by this author, and the very first book I read about cadavers. In this book, Roach explores the role cadavers have played in some of science's "boldest strides and weirdest undertakings." From medical school classrooms to ballistics labs and car crash tests, Stiff takes a unique approach to issues surrounding death. This is a must read for anyone considering donating their body to science.
This is another fantastic read for body donors and medical students. The author, Christine Montross, details her semester-long dissection of a human cadaver. She uses brilliant and beautiful imagery to describe the intricacies of the human body, it's almost poetic — a stark difference from Roach's humorous and airy take.
The story of Montross and Eve [the cadaver] is a tender and surprising examination of the mysteries of the human body, and a remarkable look at our relationship with both the living and the dead. – The New York Times
Stay tuned for more book recommendations. Up next: pathology and forensics!