I know that death isn't something that many people talk about openly. It makes us uncomfortable, and I really don't understand why the western world is so challenged by mortality.
We'll talk about fictional deaths—beloved characters in books or TV shows. We'll talk about political, religious, and/or societal deaths—murders, mass traumas, cover-ups, and so on. We have a deep curiosity with morbidity. How else do you explain the 16 different versions of CSI or the popularity of serial killers in podcasts and documentaries? But when it comes to our own death, that's rarely discussed.
I don't particularly enjoy thinking about dying. But I'm a chronic planner, so why wouldn't I try to Type-A my own death?
I've already given a lot of thought about what will happen to my body after I die. After-death planning seems somewhat easier than giving thought to the dying process itself. I recently found myself in a discussion about this very topic with a friend. We were talking about the various ways we didn't want to die. She later told me about a conversation she had with a friend who described her "ideal death".
I couldn't get past that phrasing. My ideal death. It's not something you hear very often. But it got me thinking about what my ideal death would be. Obviously, if I had it my way, I'd go peacefully in my sleep after every item on my bucket list was checked off, and my family and friends had the closure they needed in order to celebrate my life and not mourn my death.
The chances of that happening, however, are slim. Working at the morgue has made it painfully obvious that death comes when it wants to. It doesn't care about your schedule. Didn't change your underwear today? Finally got tickets to Hamilton? Death doesn't give a fuck.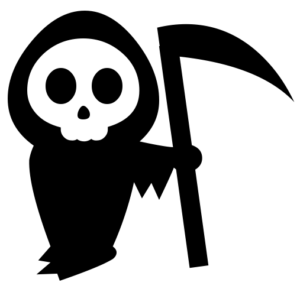 It's random. It's inconvenient. It's painful as hell. Not necessarily for you (although maybe) but definitely for your loved ones. One thing death is not is spiteful. Just promoted? Well, you're way too happy so obviously you have to die now. Nope. That's not how death works. I don't know how it works, but I like to think that we're not being punished for being happy.
Death is not a punishment. It isn't a consequence for doing something wrong or failing. Well, I suppose that's arguable if the thing you're doing is skydiving without a parachute. And, actually, death is punishment in the eyes of the justice system. So this post is riddled with lies and contradictions. I know nothing. Except that we're all going to die. Spoiler alert.
Anyway, going back to that earlier conversation with a friend about ideal deaths. Working in a morgue,  I've been exposed to a lot of different ways to die. Burned. Crushed. Shot. Run over. Stabbed. Bludgeoned. Overdosed. Hung. Froze. Drowned. Decapitated. Suffocated. Jumped. Fell. The list goes on. But the fact of the matter is, we don't get to choose how we die.
Side tangent: Can we talk about terminology? The myriad of ways in which we choose to talk about death without actually saying the word "death" amazes me.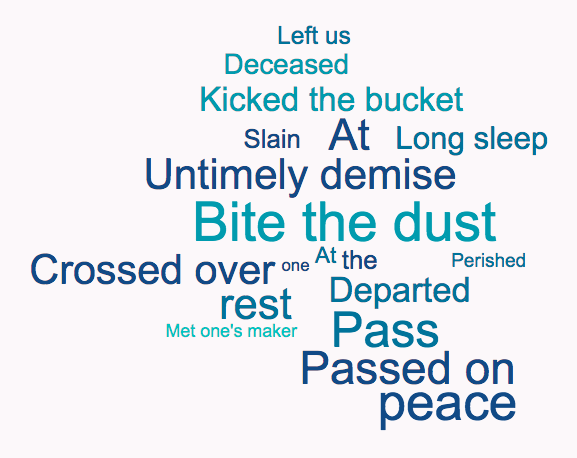 That's just off the top of my head! I think we all need to practice using the words "death," "dying," "died," and "dead". I'm not trying to push mortality on you, but I think it'd help ease us into being more comfortable talking about it if we can actually say the words. End tangent.
Anyway. Ideal death. In the event that I don't get my wish and I don't die peacefully in my sleep, I have one request: Please, please, please don't let me die on the toilet.
I've had about a dozen cases since starting in the morgue that involved toilet deaths. They're more common than I thought. They're not pleasant for anyone involved. And hey, everybody poops. That's not the issue here. I'd like to die with some dignity and not with my pants around my ankles.
The nature in which you die almost seems to validate your death. At the very least it has some influence over how people respond to your death. Died saving someone? Died in the line of duty? Died due to a freak accident? I guarantee it'll help soften the blow. "She died doing what she loves." "She died so another could live." "They lived a long life." "They're with *insert loved one's name here* now."
Die while on the toilet? There's nothing noble or heroic about a toilet death. No one says that you died doing what you loved. I promise you that every person, upon finding out someone they know died on a toilet, thinks "ew". Then they'll picture it. They won't want to, but inevitably it'll come. And for a moment, they're embarrassed for you.
No thank you.
Thinking about toilet deaths has made me more aware of how much time I spend in the bathroom. Thanks to smartphones, number twos take longer than they use to. IF we were to add up all the time we spend on the toilet, I think we'd find that death has ample opportunity to strike us down.