One of the unique things about my school is that clinical experience is interwoven into the entire program. My clinical rotation started the second week of the first semester, rather than being introduced later into the program. We started out with two eight-hour days in the radiology department and three inside the classroom. That lasted for two semesters. Now that I'm in my third, we've upgraded to three clinical days and only two classroom days. While that means a lot more experience for me, it also means that I'm on my feet a lot more.
There isn't a lot of down time when you're juggling outpatients, inpatients, ER patients, and fluoroscopy exams. At the end of the day my feet were less than pleased—specifically my heels. But it wasn't until my two-week surgery rotation that I realized the shoes I was wearing weren't cut out for the demands I was putting on them. The pain from my feet started radiated up to my knees and lower back. In surgery, radiographic technologists usually stand in the operating room until the surgeon needs an x-ray. There isn't always a place to sit, and as a student I usually let the lead tech enjoy that luxury if it's available.
There were times when I wanted to excuse myself from the OR just to go stretch or sit for a moment, but I didn't want to miss out on anything important or seem unprofessional. Seriously, if a nurse or a surgeon can stand for the operation, so can I. But they had better shoes! As a student, we have to wear white leather shoes, which really limits our choices when out shopping. Trust me, I would much rather wear my running shoes. So at the end of my surgical rotation I set out to find a new pair of clinical-appropriate shoes.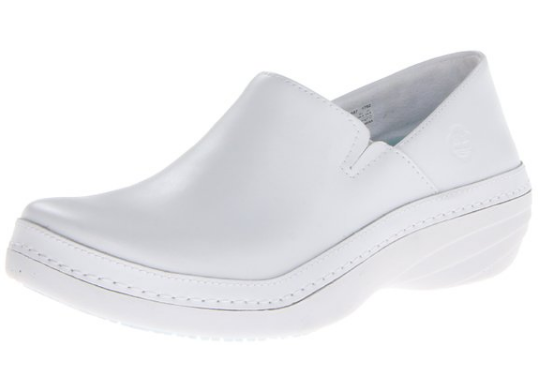 I had bookmarked these Timberland PRO Women's Renova Professional Slip-on shoes a while back. The price tag just didn't meet my student-friendly budget. But I was desperate. I talked with friends and classmates and they all told me that splurging on shoes, especially since I'm on my feet so often, is totally worth it. So I did. And I wish I had done it sooner.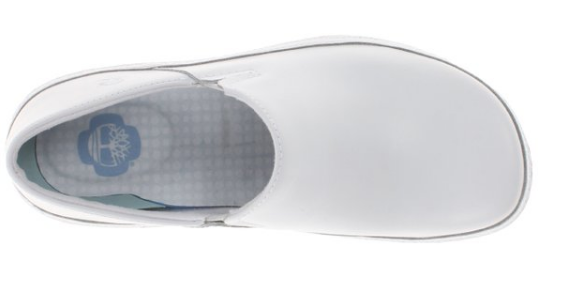 The breaking in process was a little annoying. While my heels didn't hurt as much after a full day at the hospital, my ankles were sore from the sides of the shoes rubbing against them. This has subsided a lot after a few weeks of wear, but it's something to consider. I recommend breaking them in at home before taking them out for a full shift. They do squeak a little when I walk, but it's a small price to pay for comfort. Other than that, I've been very happy with my purchase. They're non-slip, breathable, and easy to clean.
If you're a healthcare professional in need of a change, I definitely recommend Timberland PROs. Yes, spending $120 on work shoes might seem like a lot of money, but it's well worth it. Foot health is important, and if you're a student, you've got a lot more long days ahead of you! Be kind to your feet.
Side note: The company didn't ask me to review the shoes, so all opinions are my own.